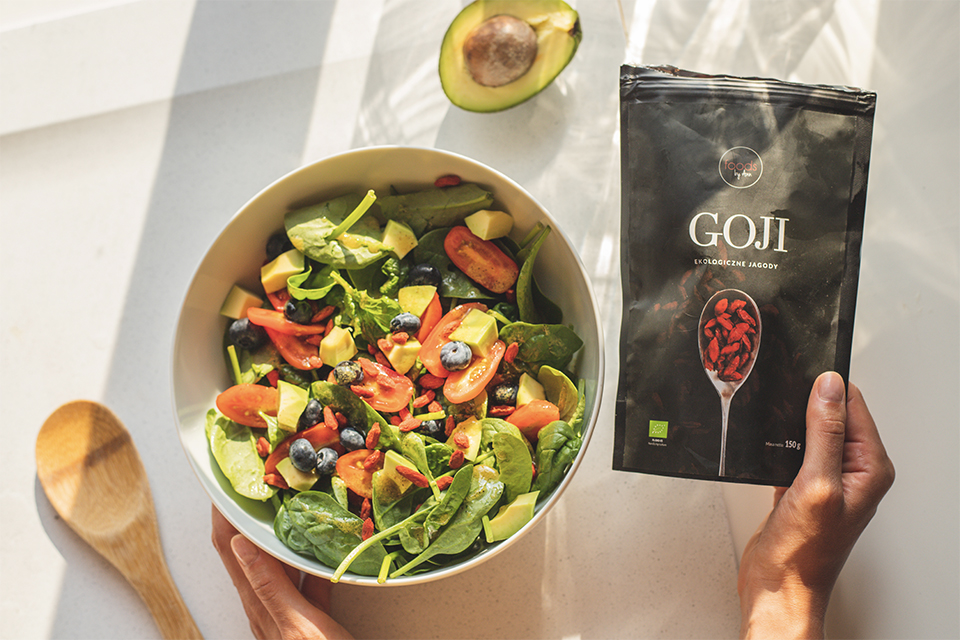 Goji salad recipe
2019-09-02
Category:
Breakfast recipes
We love to surround ourselves with freshness and vivid colours first thing in the morning and during the day, so today you can find an aromatic salad with delicious Goji berries on our table. :)

The secret of its unique character is the delicate sauce, which enhances the taste of the products.

The salad is light, but at the same time it fills you up and above all it is healthy, which we like most of all :)
Ingredients for the Goji salad:
THE SALAD:
2 handfuls of baby spinach
1 handful of goji
1 avocado
1 glass of cherry tomatoes
1 handful of blueberries
THE SAUCE:
1 tablespoon of apple vinegar
2 tablespoons of olive oil
½ teaspoon of honey
½ teaspoon of Dijon mustard
a pinch of salt and pepper
The recipe for the Goji salad:
Stir the sauce ingredients thoroughly
Cut the avocados and tomatoes
Combine with spinach, blueberries and Goji berries
Pour the sauce over the salad
And it's ready to be served!