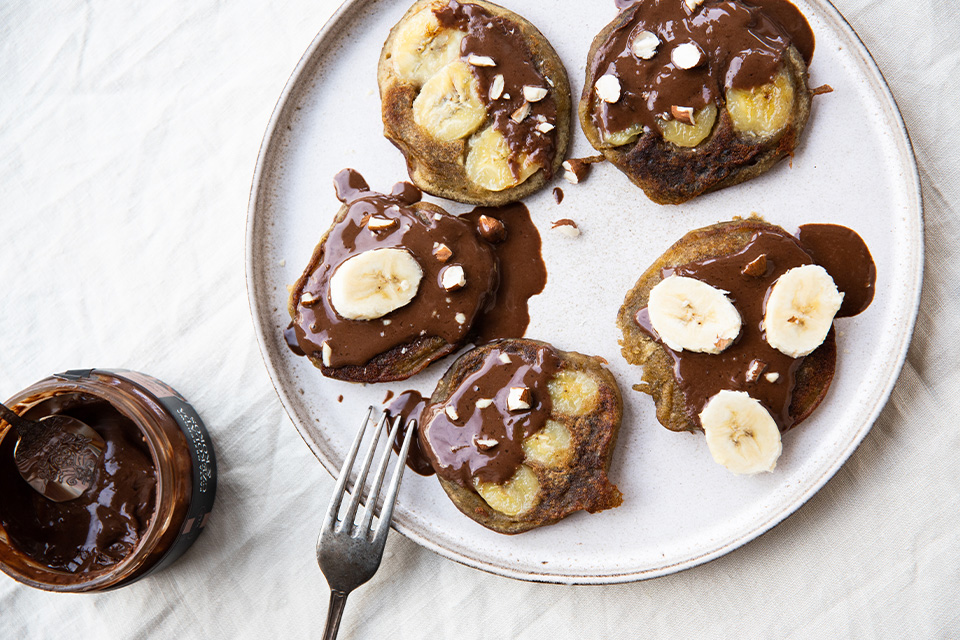 Recipe for pancakes with chocolate spread
2020-05-14
Category:
Recipes for healthy dinners
Chocolate can be eaten in many ways, so today we choose the healthy version, which is very nutritious and of course extremely tasty.
We guarantee that our pancakes with chocolate-coconut spread and with bananas are the best :)

Perfect for improving your mood and recharging your batteries in the morning, during the day and in the early evening.
Check it out :)
Ingredients for pancakes with chocolate spread:
2 bananas (1 on top)
100 ml coconut drink or other vegetable milk
4 tablespoons of spelled flour
0,5 tablespoons of baking soda
ghee butter for frying
crushed almonds (to be sprinkled last)
Recipe for pancakes with chocolate spread:
Mix the coconut drink, spelled flour and soda thoroughly
Cut the banana and add it to the dough
Fry in butter on both sides until the pancakes are browned
Pour the chocolate paste
Sprinkle with crushed almonds
Put the banana slices on top
Bon Appetit!
Recommended