Pumpkin tart recipe
2019-06-05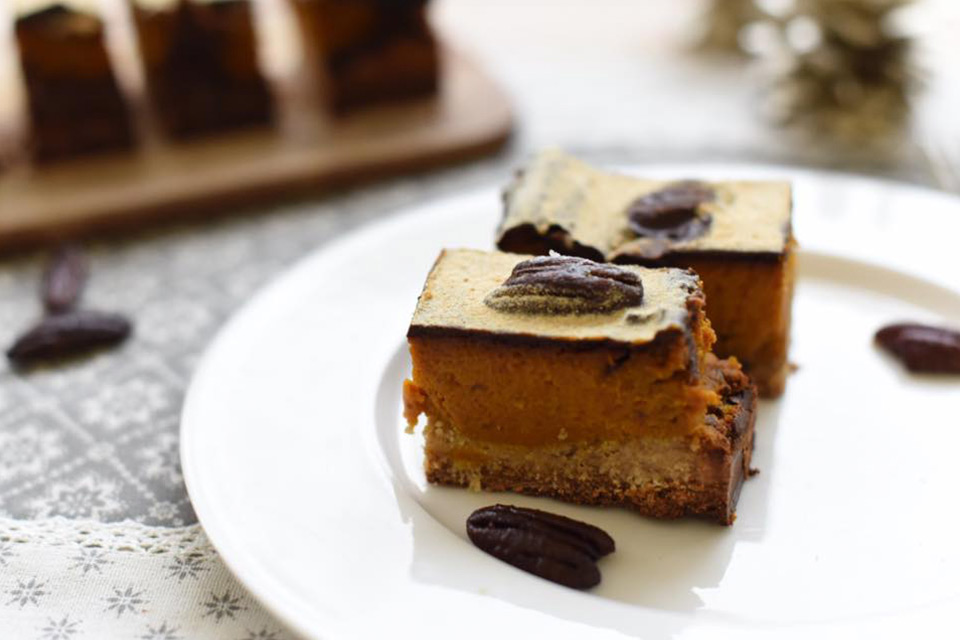 Category: 
Healthy desserts recipes

Her majesty the pumpkin!
It is eaten in many different ways, and today it has found its vocation in... the tart. :)
It's worth eating pumpkin because it's healthy and full of vitamins.
And not only those which make us feel better, but also those that make us more beautiful. ;)
Pumpkin takes care of our skin from the inside. And it really works! It moisturizes, smoothes and delays aging.
And it also helps to lose weight. It's cool, isn't it?
Then let's get down to work!
Ingredients for the pumpkin tart:
THE CRUST:
180-200 g coconut flour
2 eggs
approximately 100 g of coconut oil
40 g of coconut sugar
1/4 teaspoon of baking soda
1 tablespoon of spices
THE FILLING:
2 small baked pumpkins of approx. 700/800 g
3 eggs
Approximately 100 g of coconut sugar
1 can of coconut milk (pre-cooled in the fridge)
juice of 1/2 orange
2 tablespoons of maca
2 tablespoons of spices
1 teaspoon of cinnamon
half a teaspoon of baking soda
8 dates
THE GLAZE:
80 g bitter chocolate with 80% cocoa
1 tablespoon of coconut oil
1 tablespoon of maca
any nuts for decoration
Preparation of the pumpkin tart:
Preheat the oven to 180 degrees
Cut the pumpkin in half and get rid of the flesh with seeds using a spoon
Place it in the oven and bake in 180 degrees for approx. 30 minutes

THE CRUST:
Place all the ingredients in the bowl and stir
Line the long and wide baking tin with baking paper or coat it thoroughly with fat
Place the dough in it and knead it so that it is not too high, because the taste of the filling should dominate in this cake
Fold the dough at the sides as much as you can
THE FILLING:
Peel the roasted pumpkin and place it in a separate bowl or food processor
Add the rest of the ingredients and mix thoroughly
Transfer the prepared mixture onto the crust and place in the preheated oven
Bake for approx. 1 hour and leave in the oven for approx. 15 minutes after switching it off
After taking the cake out of the oven place it in a cool spot to cool down
In the meantime, prepare the glaze
THE GLAZE:
Melt a bar of bitter chocolate with coconut oil in a saucepan
Pour it over the cake, decorate with nuts and put it in the fridge for 1 hour
After removing, sprinkle with maca using a sieve

Advice: suggested tin: a rectangular one (34 cm x 24 cm) or a round cake tin